We at Mikes Auto Repair know it is never an easy choice when confronted with the decision of engine replacement, vs engine rebuilding. How much will it cost? How long will it take? Is it cost effective? Should I just buy a new car? Seriously, you should be considering all of your options. All these questions and more can be answered by our qualified technicians. You'll feel at ease knowing your vehicle is being taken care of by the best Auto repair shop in Arizona.
Engine Rebuilding
There is a good chance that engine rebuilding could save you a whole ton of cash, depending on the root of the problem and the parts required to fix it. As one of the few shops in partnership with NAPA,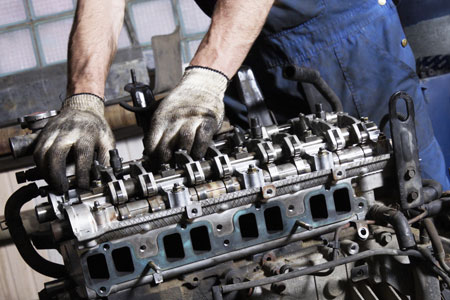 you can take comfort in the knowledge that we use only the finest NAPA auto parts and have the skill required to integrate them seamlessly into your engine.
At times, rebuilding your engine can save you anywhere from 20 to 50% of the cost of replacing the engine completely. Depending on the parts needed and the amount of man hours required doing the job. We are well aware that our ability to fix your problem cost effectively is one of the most important things to our customers. Often, repairing the engine will also give you a good opportunity to replace a few parts that would have otherwise been neglected. Let us take care of your cars needs, you may also find there are a few upgrades you would like to make while we have our heads under the hood.
Root Problem Diagnosis
The vast majority of engine rebuilds could have been avoided with proper diagnostics from a qualified and honest mechanic. We at Mikes Auto Repair are ready to be realistic and forthcoming with what we know is one of your most important investments. An accurate diagnosis of the root issue is extremely important in saving you money, both in parts and the cost of labor. Unlike other mechanics, we are dedicated to the ideal that healthy engines make for happy people. Fixing the problem correctly the first time and gives you, our customers: a reason to come back.
In some cases, simply replacing the engine may be one of your better options. It will add valuable years to the life of your engine and turn a once problematic and fickle vehicle into the working and reliable car you require as a driver. Replacing the engine also removes the quick and potentially annoying addition of miscellaneous parts such as hoses, belts filters and coolant. Rest assured, our number one priority is providing you with the best option for returning your vehicle back to you in a stable working condition.
Whatever your choice, repair, rebuild or replace, Mikes Auto repair is here to make your life less complicated. By providing you with the knowledge to make an informed decision and demanding the very best from our technicians, we can guarantee your experience with us will make you like your mechanic again.